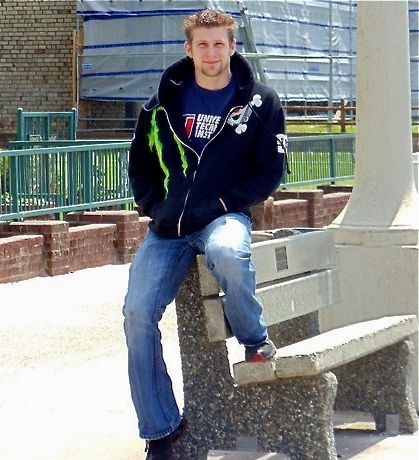 CHRIS JOHNSON
Age: 23

City: Kent

Fav Course to Race: Evergreen so far but am looking forward to trying more tracks soon!

Fav food: Almost anything off the BBQ

Hobby other than racing: Snowboarding
1.How long have you been involved in the racing industry and how did you get your start?
I have only been drifting on tracks since Spring of 2012, I built my Nissan 300zx Twin Turbo 2+2, with the intent to do some drifting. When I attended Nissan fest this last year at Evergreen and saw some of the cars out there I was excited. I knew that my "Z" and I had the ability to hang! Attending Nissan Fest was what led to my first open drift and the rest has been history.
2. What car do you race and what events in the NW or USA do you participate in?
I drive my Nissan 300zx Twin Turbo 2+2. I have competed in all the Grassroots drift events at Evergreen, headed out to PGP and Pats Acres. I am willing and ready to try out more tracks in the PNW area.
3.What tip would you give someone who is thinking about or has recently started racing?

Take notes from every one around you and don't be afraid to make friends at the track. The guys you meet you will see at many events and at different tracks around the area. You all have at least a little in common... that's why you are all there! You never know who may give you some insight, a driving tip or lend you a hand if you're ever in a pinch.

4.What is your most memorable track day and why?


At the open drift event I had recently installed my race seat and Modded 300zx steering knuckles I got from 425 Motorsports.(Shameless Plug...We Don't Mind) It was the transition point for me feeling like I took my car from just a car to a Drift Car.


5.What is your advantage behind the wheel?

The power my car has. It is not often I am clutch kicking to keep a drift. Just step on the skinny pedal and go!

6.What are your 3 MUST HAVE's as far as racing products?

My must have's are my pumas, must have the head lights on, not sure if its superstition or what but I will not drift well if I don't. If at all possible I must have the T-Tops off! Nothing like drifting topless :)

7.If you could be in the passenger seat of any famous racer's car who would it be and why?

It would have to be Mike Essa, just to experience one of his reverse entries.