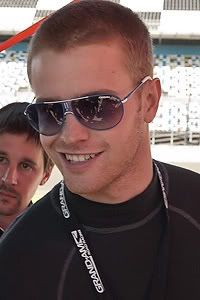 Full Name:

Aleksander Mikhail Keefe Altberg



Age:

21



City:

Mill Valley, CA



Fav Course to Race:

Sears Point, CA



Fav Food:

Anything unique and different!



Hobby other than racing:

Computer games and photography
Q: How long have you been involved in the racing industry and how did you get your start?
A: I've been racing since I can remember! But only recently has that passion found its proper niche in the motorsports industry. For my 16th birthday my parents thought it'd be smart to enroll me in a driving school (oh boy were they wrong). I attended the basic formula driving courses at Jim Russell Racing School located at Sears Point, CA. After bringing the car back in one piece and apparently displaying a decent level of aptitude for the sport the cheeky salesmen at Jim Russell conned my parents into enrolling me again, but this time in their more advanced courses. Miraculously I again returned their Lola Formula 3 car back to them in one piece and again the clever and shameless instructors convinced my parents I had the talent to compete in the Jim Russell Championship series. So then began the process of securing funding through friends, family, and businesses. After a grueling 16 race championship that tested both my mental and physical strength -- sometimes over the limit! -- I came out with a 2nd place in the championship and had secured the Rookie of the Year award for the series. The rest is history!
Q: What car do you race and what events in the NW or USA do you participate in.
A: I'm currently driving the full 2012 season of the Continental Tire Sports Car Challenge (CTSCC) for APR Motorsports in the #171 GTi (ST class).
Q: What tip would you give someone who is thinking about or has recently started racing?
A: Prepare, prepare, prepare; both physically and mentally. Read, watch, listen, learn. Be an open book; be ready to learn and ingest/digest as much information from as many reputable sources as possible. Always ask questions. Most importantly, keep your chin up and think positive.
Q: What is your most memorable track day and why?
A: Finishing 2nd in the Malaysia Merdeka Endurance Race by only 12 seconds after 12 humid, tense, and exciting hours of racing. Then having the opportunity to stand on the same podium that Formula 1 drivers claim their trophies was a moment I will absolutely never forget. On top of that, I had the luxury of driving with two great guys, David Cheng (my Continental teammate) and Miles Maroney (one of David's old PR1 Motorsports teammates); we had too much fun.
Q: What is your advantage behind the wheel? What gives you an edge above the competition?
A: I've had the opportunity to practice driving in a plethora of mediums. By that I mean I've been taught how to drive everything from Karts, Formula Cars, and even currently teach people how to drive Rally cars. With these different skill sets I can often comfortably and quickly find the limit of just about any car I find a seat in (so far at least!).
Q: What are your 3 MUST HAVE's as far as racing products?
A: To be honest, I'm more concerned with surrounding myself with a positive environment, from the food I eat to the people I travel with -- which was a major factor in finding a teammate for this years season. David Cheng is a very good friend of mine who I've had the pleasure of literally traveling the world with, we gel together very well and we make a quick team.
Q: If you could be in the passenger seat of any famous racer's car who would it by and why?
A: So many to choose from! But for the fear of sounding cliche and picking Senna's MP4/4 I'm going to have to go with Hannu Mikkola's Audi Quattro S1 during the insane WRC Group B days!